H.O.P.E. (Help Other People Eat) Holiday Food Drive | October–December
For some families in Dane County, a holiday meal is a luxury they just can't afford. This holiday season, you can Help Other People Eat—right here in our community—with a generous donation of your funds, your food, and your time at The River.

Why Give to Our H.O.P.E. Holiday Food Drive?
You will make the holiday season brighter for those struggling to make ends meet in our community,

including children, families, seniors, and veterans!



Your support will allow The River to serve

over 1,000 food-insecure households in Dane County every week before, during and after the holidays.

Because The River is a 501(c)(3) nonprofit organization, your donations are 100 percent tax deductible.

95 cents of every dollar

you donate will go directly to those we serve: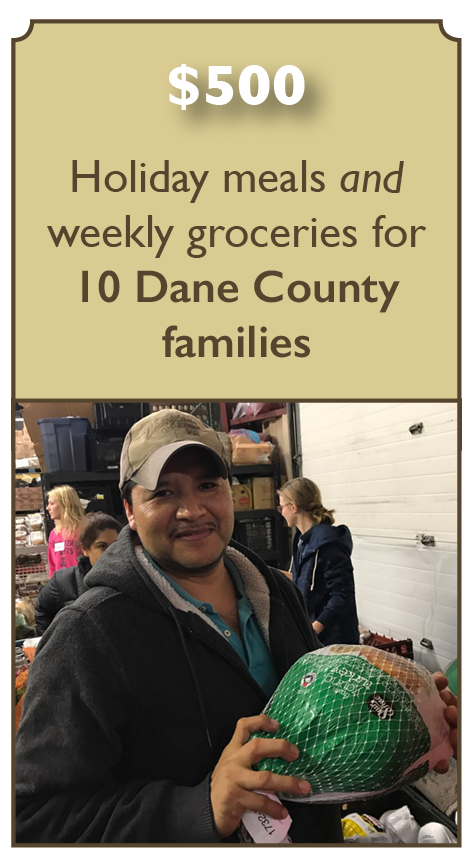 Ways to Give to H.O.P.E.
Text "GIVE" to (608) 719-4057
Mail checks with the word "H.O.P.E." in the memo to: The River Food Pantry, 2201 Darwin Road, Madison, WI 53704
Other Ways to Give to H.O.P.E.
Thank you in advance for your kind consideration and for helping us end hunger over the holidays.
The River Food Pantry gave my grandson a Christmas I could never give him on my income, and words can't express how thankful I am for their giving hearts.

– Linda, Client of The River

With generous contributions from the following supporters who are sponsoring H.O.P.E. for:
120 Dane County Families




Dave & Terri Beck-Engel
50 Dane County Families




Duane & Wendy Reichel
20 Dane County Families



 Sirianni Family


Tim & Katie Conrad

Ahnna Weber

Curt Peerenboom


Den & Bev Brass 
11 Dane County Families



10 Dane County Families



GodIsInOurMidst.com

 Grace Homb

Capitol Indemnity Corporation


Villa Tap

Marge Lindsay

Ryan & Sara Groy


Don Gilbertson 

Al & Mary Clary 

Earl & Martha Knott

 Dan & Carmen Strum


Allison & Greg Meyer

Amy Barrilleaux & John Beard

Steve & Fran Tate

Cindy & Ted Witt

Bob Garrison

5 Dane County Families




Jennifer Haack Agency – American Family Insurance

Rhonda Adams & Jim Lenzer 

Barbara & Richard Loftsgordon

 Joan Capelle


Scott & Anne Michels

Jake & Katie Hamus


Denny Skaanning 

Roy & Sue Carter

Kathy & Pat 
Media Sponsor