Help us fill our coolers full of fresh food this summer. Please consider donating your gardening surplus to The River where it will immediately find a good home. You might even consider planting a few extra items just for donating or bring a group to a farm for harvesting. With The River distributing over 40,000 pounds of food a week, we can never have too much fresh food.
Donations can be dropped off at The River Monday & Wednesday from 9am-5:30pm. Tuesday, Thursday and Friday from 9am-6pm.

Thank you for the donations!
Scott Ness holds a stand off the road of W12303 Cty Rd V in Lodi selling fresh corn picked from his farm.

Instead of wasting perfectly good corn, Scott donated almost 900 pounds to The River Food Pantry!
Numerous individuals and families in the community will be going home with bags of fresh corn on the cob to enjoy. Before leaving, Scott made plans to bring another truck load of corn in a couple of days.

Six members of the Senior Adult Ministry at Messiah Lutheran Church in Madison recently spent a beautiful sunny day outdoors harvesting 65 pounds of fresh strawberries from the Lutz Family Farm for The River Food Pantry! They had such a fun time that they said plans are already underway to make this a Messiah intergenerational event for next June.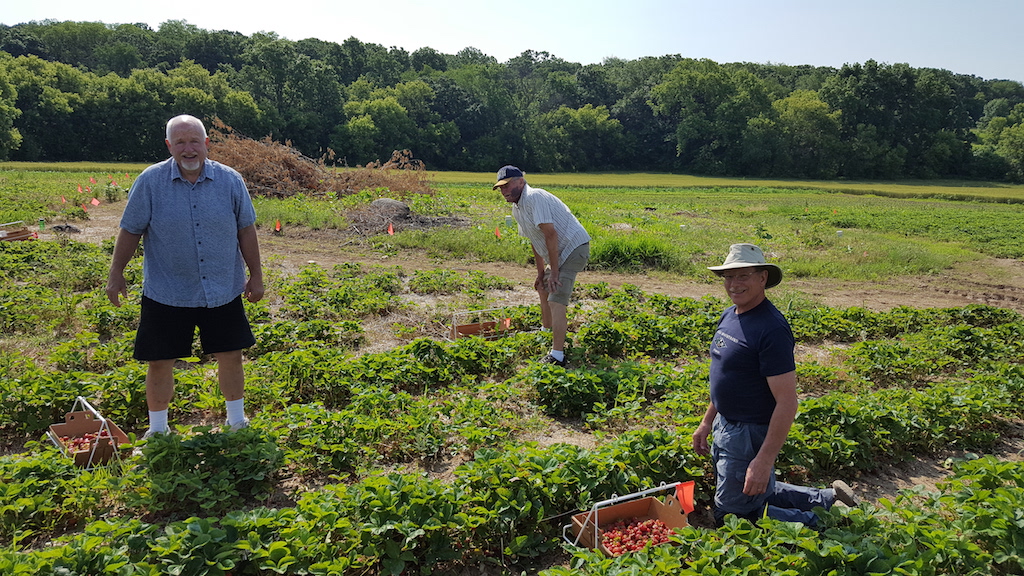 From left to right, Tim Ryan,

Tom Green, and Ji

m Stolzenburg stop to pose for a photo while picking strawberries at the Lutz Family Farm.
From left to right, Stolzenburg, Bob Hartwig, Ryan, Green, Keith Schlesinger, and Marlene Green show-off the vast amount of strawberries they picked for The River. Matthew Lutz gives a thumbs up in the background for the excellent harvest.
Arin, a volunteer at the pantry, prepare the abundance amount of fresh donated strawberries for hundreds of families to take home during our public shopping session.
Thank you so much

Senior Adult Ministry

for thinking of The River and helping feed struggling families in the community. The River Food Pantry has always focused on providing as much fresh food as possible for the families who come to us for help. With fresh fruits and vegetables often being passed by on shopping trips because of their expense, your donation means a lot here at The River.